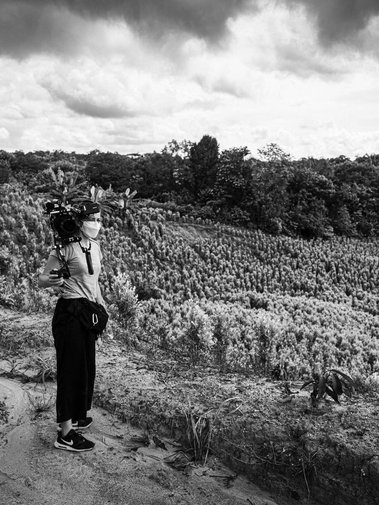 I'm a documentary producer and cinematographer based in New York.

I have reported throughout Latin America, with bylines in Argentina, Brazil, Colombia, Guatemala, Honduras, Mexico, Nicaragua, Paraguay, Puerto Rico, and Venezuela. I have covered stories including the epidemic of forced disappearances in Mexico, Venezuela's migration crisis, Brazil's 2018 presidential election, and the aftermath of Hurricane Maria in Puerto Rico.

Before moving to the United States, I worked as a videographer in the Mexico City bureau at Telemundo, where I reported extensively on the disappearance of 43 students from the Ayotzinapa Rural Teachers' College.

My work has appeared on VICE News, HBO, Showtime, Telemundo, Al Jazeera, Univision, NBC News, TIME, Narratively and, The New York Times.
I am a graduate of Columbia University Graduate School of Journalism where I sometimes work as an adjunct professor.

You can reach me at juanitaceballosv [at] gmail [dot] com
Awards
2021 New York Press Club Award, Feature Reporting National: Internet, "Border to Border" (VICE News)
2020 Emmy Winner, Outstanding Newscast, VICE News Tonight
2020 Emmy Winner, Outstanding Coverage of a Breaking News Story in a Newscast, "American Uprising" (VICE News Tonight)
2020 Edward R. Murrow Award, Continuing Coverage, "Say Her Name: Investigating the Death of Breonna Taylor" (VICE News Tonight)
2020 George Polk Award, Television Reporting, Investigating the Death of Breonna Taylor (VICE News Tonight)
2019 New York Press Club Award, Documentary TV, "Walking to America" (VICE News Tonight on HBO)

2019 Emmy Winner, Outstanding Coverage of a Breaking News Story in a Newscast, "Moment of Truth: Kavanaugh and Ford" (VICE News Tonight on HBO)
2019 Emmy Winner, Outstanding Feature Story in a Newscast, "Zero Tolerance" (VICE NewsTonight on HBO)
2019 Citation, Overseas Press Club of America for Best Reporting in any medium in Latin America, "Walking to America" (VICE News Tonight on HBO)
2017 Emmy Winner, Outstanding Investigative Journalism in Spanish, "Harvest of Misery" (Telemundo Network News)